Who Is A Naturalist's World?
A Naturalist's World ANW) is an ecologically oriented company dedicated to providing educational programs, books, slide shows and videos reflecting the natural history of North America. In addition to tracking, our programs cover bears, wolves, winter ecology, northern lights, alpine ecology and African ecosystems.
ANW is owned by Jim Halfpenny, Ph.D. Jim and Diann Thompson, B.S.N., who run the daily business, teach classes, and lead programs. Other instructors assist on various courses.
ANW is located in Gardiner, Montana, the north Gate to Yellowstone National Park. Facilities for ANW and students are housed in the Track Education Center and Museum.
---
Who are Jim and Diann?

Jim is a scientist and educator whose background is mammalogy and ecology including polar, alpine, long-term specialties. He has been tracking since 1957 and teaching tracking since 1969.

Jim is author of many books, articles, and videos including

Yellowstone Wolves in the Wild,
A Field Guide To Mammal Tracking in North America,
the Scats & Tracks regional series,
Snow Tracking,
Winter: An Ecological Handbook,
Discovering Yellowstone Wolves,
Living with Ice Bears,
A Celebration of Bears and
Tracking Elk for Hunters.

His writing, photographs, and classes have been featured in
Backpacker, BEARS Magazine, College Science Teacher, Colorado Outdoors, Field and Stream, Natural History, New York Times, Outdoor Photographer, Outside Magazine, Ranger Rick, Science World, Sierra, Sports Afield, Summit, and Wyoming Wildlife.

Since 1961, Jim has taught outdoor education and environmental programs for state, federal, and private organizations including among others Aspen Center for Environmental Sciences, Audubon, Colorado Outward Bound School, National Outdoor Leadership School, National Wildlife Federation, Nature Conservancy, Sierra Club, Smithsonian, Teton Science School, Wilderness Society, Yellowstone Institute, various Universities and state wildlife agencies, and Rocky Mountain, Grand Teton, Yellowstone, and Glacier National Parks.

Jim has conducted research and led expeditions to the four corners of the world including both polar regions, the deserts and mountains of China and Africa, and the forests of the tropics. Jim is a member of the Explorer's Club and a Vietnam Veteran.

Diann is a registered nurse who has worked on tracking, bear, ski, and northern lights programs from Yellowstone to Hudson Bay in Canada. Diann is co-producer of Living with Ice Bears, A Celebration of Bears and Tracking Elk for Hunters and co-author of Discovering Yellowstone Wolves.

Jim and Diann reside in the Greater Yellowstone Ecosystem where they spend as much time in the field as is possible, especially on crosscountry skis.
---
Track Education Center and Museum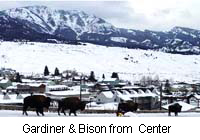 The Track Education Center and Museum (TrEC) consists of a museum classroom, symposium classroom, kitchen, dormitory rooms, and apartment complex located in Gardiner, Montana (north entrance to Yellowstone National Park).

The museum contains a teaching and reference collection of more than 1000 plaster footprint casts, scat, hair, bones, teeth, skulls, antlers, and horns. Casts represent footprints of North American amphibians, reptiles, birds, mammals and fossil mammals and dinosaurs. Some non-American animal tracks are also present. This track collection is one of the largest known and is used as a reference for identification, often in legal cases. Scat, hair, bones, and teeth represent North American mammals and serve primarily for teaching about animal signs. Walls are decorated with posters about animals and from various student and research projects.

Computer databases are maintained on measurements of footprints of mammals. Facilities are also available to make duplicate plaster casts from collection material. All materials are available for photography.

The symposium lecture room seats 40 people at tables facing speaker and screen As an auditorium without tables, 70 may be seated. When used as a dining room, 60 participants may be served at tables. Audio / Visual and Projection equipment available includes two 35 mm Kodak projectors, DLP projector providing 5-ft wide image, television and small speaker system, DVD player (may be used with DLP projector), VHS player / recorder (may be used with DLP projector), computer for PowerPoint type presentations, and projection screen and white wall for large images.

The kitchen is fully equipt with dishes, cooking utensils, and coffee machines (timers are available for early morning departures to the field).

Dormitory rooms sleep eight with two bunks per room. The apartment sleeps six with bunks in each or two bedrooms. The apartment has a separate entrance, bathroom, and kitchen.

Four bathrooms are available on the premises and facilities are handicap accessible.

All facilities are within walking distance of dining, conveniences store, and gas stations.

Contact A Naturalist's World to arrange to use facilities and for lecture and program availability. Our calendar is full so make arrangements early. (406) 848-9458.
---

Map to Track Education Center and Museum
Print picture for a written copy.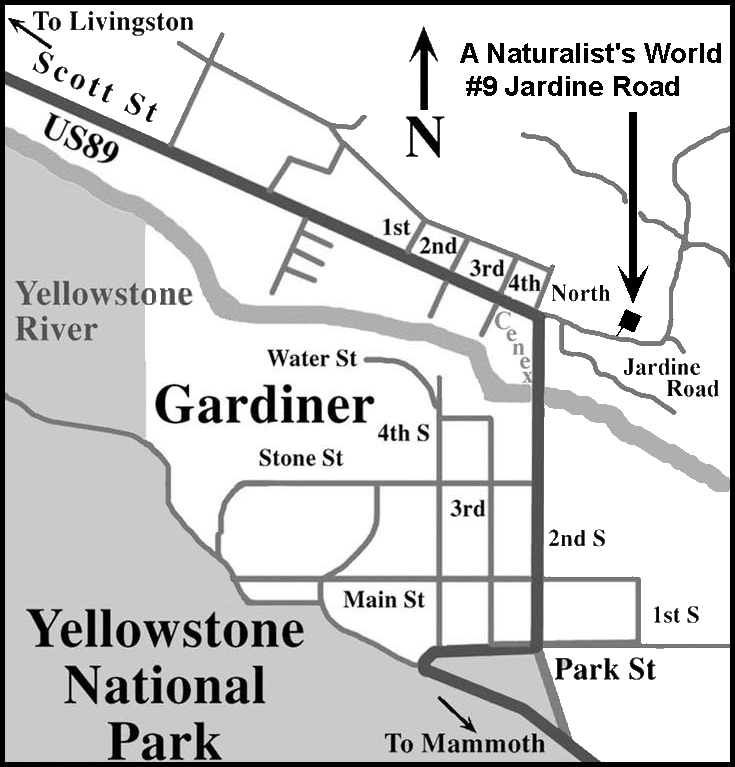 ---